Hello TSKB Readers-
So my newest sewing project is yet another M6011. My previous attempt (
with setbacks
) ended up looking like this:
The fit is -still- big. So, I decided that if I were making a second one, I would focus far more on the finished garment measurements to determine the size instead of -my-measurements (the ones that are typically at the top of the envelope). This view had about FIVE inches of ease! No wonder I had to take in so much!
This McCalls pattern came with three views. I find it funny that a sleeveless version somehow counts as a view, but it's not a major point. I had previously made version B; this time I'm opting for version C.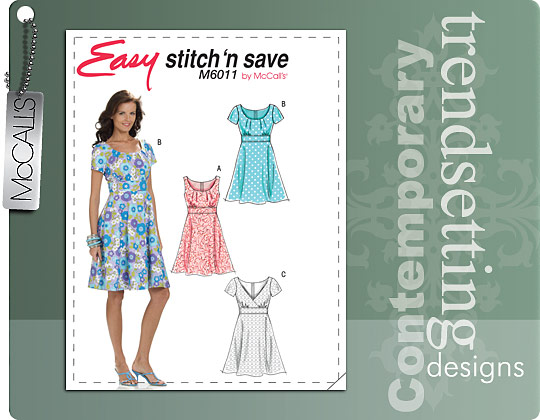 Image via PatternReview
Like I said in my previous post, in order to make the money and the hobby stretch a little further, I am only working on this dress a little bit every other day. After about 10 days working on it, I only have the bust completed.
So far so good! The fabric was purchased at JoAnn Fabrics. I was hesitant to buy it because it was April Johnston's line for Project Runway (and while I didn't like her clothes, I disliked her attitude and personality even more). I like it though, so I'll get over it.
Are you stretching out any summertime projects? Or do you rush to the finish line?